My mother taught me to cook from a very early age. It wasn't an overt thing - she never specifically sat me down and gave me lessons. My education was much more subtle in that I didn't even realise it was happening. In her own way Mum made sure during my youth that I assisted and observed and consequently picked up the necessary skills I would need in the kitchen in later life. Food was always a central part of my family life at home - we had a big eat-in kitchen in which we spent all our time: mum could be pottering around the stove, or sitting at the kitchen table topping beans, while Dad sat there reading the newspaper and I was at the kitchen table doing my homework or, more likely, writing letters to my numerous penpals. Our 'family room' was the kitchen, the hub of the home, and we were all together around the kitchen table, surrounded by the sounds and smells of the evening meal bubbling away on the stove.
Sure enough, as my mother had intended, I absorbed her teachings as if by osmosis. Prior to moving out of the family home, I could count the number of times I prepared a meal on my own on one hand. However, when faced with preparing dinner in my own tiny kitchen for the first time, I discovered that instinctively I understood what to do. I felt like Jason Bourne, the amnesiac spy in Robert Ludlum's gripping novels, who had no recollection of his earlier life of espionage, yet instinctively knew how to move, how to fight and how to converse in countless languages! Perhaps I was not quite like Bourne, but I did possess cooking skills I had no recollection of learning: I could work in the kitchen on autopilot, by instinct, and I am forever grateful to my mum for the skills which she instilled in me without my knowing.
I was in my early twenties when Mr W&W and I set up together, and it was my first time out of home. In anticipation of having to cook meals for someone worth impressing, I scoured my mum's cookbooks before leaving the nest and compiled a number of recipes which I thought might be worth a go. One such recipe was a Rick Stein beauty for these Mussels with Tomato and Tarragon. At this stage I was just coming out of a long exile from seafood had begun to appreciate the joy of mussels (particularly their price, ridiculously cheap at $6.00/kg in those days). We have eaten this meal countless times since, and it has been twisted and tweaked to what is in our minds absolute perfection.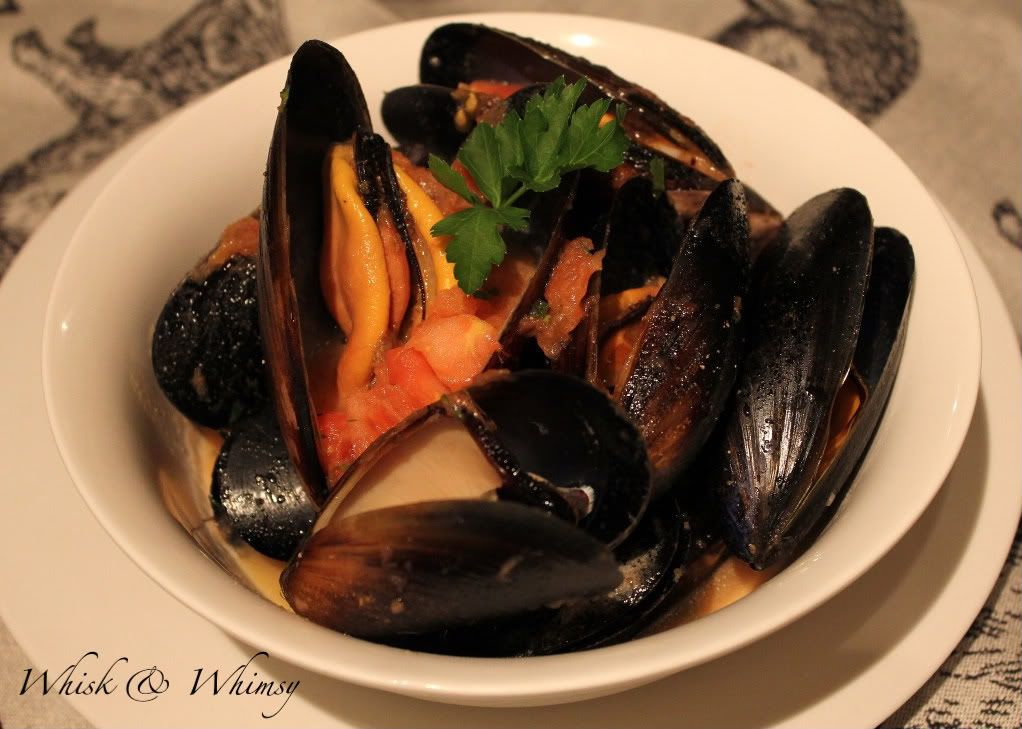 Steamed Mussels with Tomato and Tarragon
(adapted from a recipe by Rick Stein)
Serves 2 as a comforting main meal*

What you need:
1 kg mussels, scrubbed clean and debearded**
splash extra virgin olive oil
2 garlic cloves, finely chopped
1⁄3 cup dry white wine
2 small tomatoes, peeled, seeded and diced (juice retained)
1 tbs tomato paste
30g cold unsalted butter, diced
1 tbs chopped french tarragon
crusty bread, to serve

What to do:
Heat the olive oil over medium heat in a large saucepan or stockpot and soften garlic for a minute or two (do not let it colour).

Add the mussels, increase heat to high and tip in the white wine. Cover pan and cook 2-3 minutes until all the shells have opened - but only just! Don't cook them too long beyond the shells opening or they will become rubbery. Gently stir the shells once or twice in the cooking.

Remove mussels from the heat and cover to keep warm. (Discard any mussels which have not opened - these should not be eaten). Pour the cooking liquor through a sieve and return to the saucepan with the tomato paste. Heat the cooking liquor until boiling and then whisk in the butter a knob at a time. Add the tomato and tarragon, season to taste. Return the mussels to the saucepan and gently stir to combine with the sauce.


Serve in bowls with crusty bread to mop up the juices.
* A Note on the Yield: To make this recipe go further you might serve the mussels and juices on a mound of linguine - which will do for 4 guests.


**
A Note on the Mussels:
I used to hand pick the best mussels from the fish market when I first started making this dish, but these days I can't go past the kilo packs of live, scrubbed and debearded
Boston Bay mussels
. I never have to discard any where the shells haven't opened during cooking.