Hello friends, I'm back! Now if you promise to keep your fingers and toes crossed for me, and perhaps to say a few prayers if you're that way inclined, then it just might be safe for me to say that I have finished my Masters degree. At least I finished my last exam this week, and I am hopeful of passing it (although truth be told the exam was a bit touch and go), although I won't be put out of my suspense for a few weeks now. Here's hoping!

Meanwhile, thank you all for your kind comments on my croquembouche in the last post (I was quite chuffed with the result), as well as for the well-wishes for my Masters (I can safely say that I will not be doing my doctorate - no more study please!).

For the past few weeks I've had my nose in textbooks and during that time the W&W Study Menu has been startlingly lacking in gourmet. Fortunately, we refrained from relying too much on takeaway (although we are now regulars at our local cheap and cheerful Japanese restaurant). For the last few weeks the standard dinner routine has seen me leaving the textbooks after a day of study at around 5.00pm, rummaging through the freezer for some kind of barbecue-friendly meat, defrosting same in the microwave and then whipping up some sort of vegetable side dish, before hitting the books once more and letting Mr W&W deal with the grill. It might sound a little dull, but it has been enjoyable in a comforting, homely way.

One of my favourite veggie sides has been the recipe which follows. Like most people, I love a potato salad, but sometimes I find them gluggy and tangy and the flavours are over the top. The salad which follows uses firm and waxy kipfler potatoes which hold their shape and don't break up into mush. These potatoes have a delicious flavour of their own and they deserved to be championed with a simple dressing. The prosciutto is a salty, crispy treat. Regular, garden variety bacon can be substituted for the prosciutto if you haven't any of the posh ham on hand (I frequently use ordinary bacon) but if you are planning on making this then I recommend going to the effort of buying prosciutto - the thin slices make for delicious little shards of flavour throughout the salad.

This recipe is so simple that I wasn't sure whether it was 'blog-worthy', but after a brief wrestle with my thoughts I elected to post the recipe. For starters, the salad is delicious and is readily wolfed down when we have a barbecue with friends. Also, though, I think it's nice to have a simple salad in your repertoire, something that you can keep on stand by in your back pocket until needed, to whip out when something tasty is called for, but without too much effort.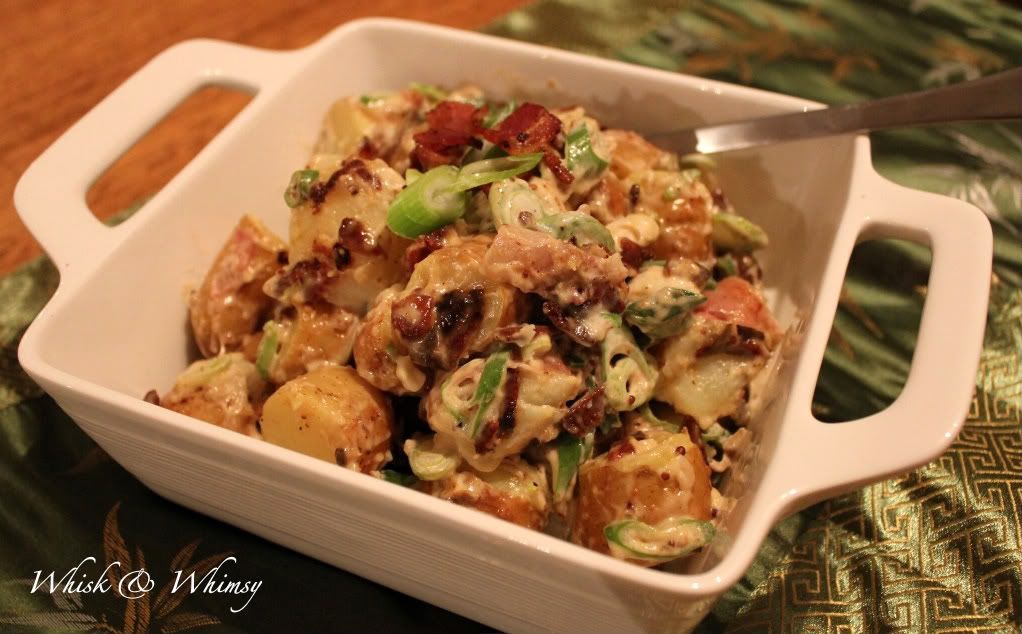 Kipfler Potato Salad with Crispy Prosciutto
What you need:
About 600g kipfler potatoes, scrubbed
8 slices prosciutto (or a few rashers bacon, chopped)
3 or 4 spring onions (scallions) thinly sliced (I use both the green and white part)
1/4 cup best quality mayonnaise (home-made is best, but certainly was not used in the Study Menu!)
1 heaped teaspoon dijon or French mustard
1 tablespoon seeded mustard
salt and freshly ground black pepper to taste
What to do:
I like to keep the skin on the potatoes (but if you really want to you can peel them). Bring the potatoes to the boil in a big pot of salted, cold water and cook until tender. Drain and allow to cool.

Meanwhile, fry the prosciutto (or bacon, if using) in a non-stick skillet over medium heat until crispy. I don't use any oil to do this as I find the prosciutto has sufficient fat of its own. You might need to oil the pan if yours is non-stick, however, and I would recommend an olive oil spray in this circumstance. Set aside to cool.

Combine the mayonnaise, mustards, salt and pepper and be sure to taste the mixture. You might want to adjust the dressing to your taste, with more mustard or mayonnaise as desired.

[The salad can be prepared ahead to this point, with the separate components refrigerated and brought to room temperature before using. I tend not to compile the salad until I am ready to serve as, when I have mixed the salad the day before, the spring onion flavour is a little overpowering.]

Cut the pototoes into 1-1½ inch chunks and place in a bowl with the spring onions, reserving 1 tbs of the spring onions for a garnish. Crumble the prosciutto over the potato mixure and stir through the mustard mayonnaise. Taste to check seasoning and adjust if necessary. Serve with some reserved spring onion sprinkled over.
* * *
Please don't just stick with the recipe, by the way! Consider it a starting point, a base. This is how we like it at W&W HQ; we revel in the taste of the individual components and we like the simplicity of the dish. You can jazz it up, by all means - maybe with the addition of some hard boiled eggs, or maybe some capers tossed through - it's up to you. There are no rules.