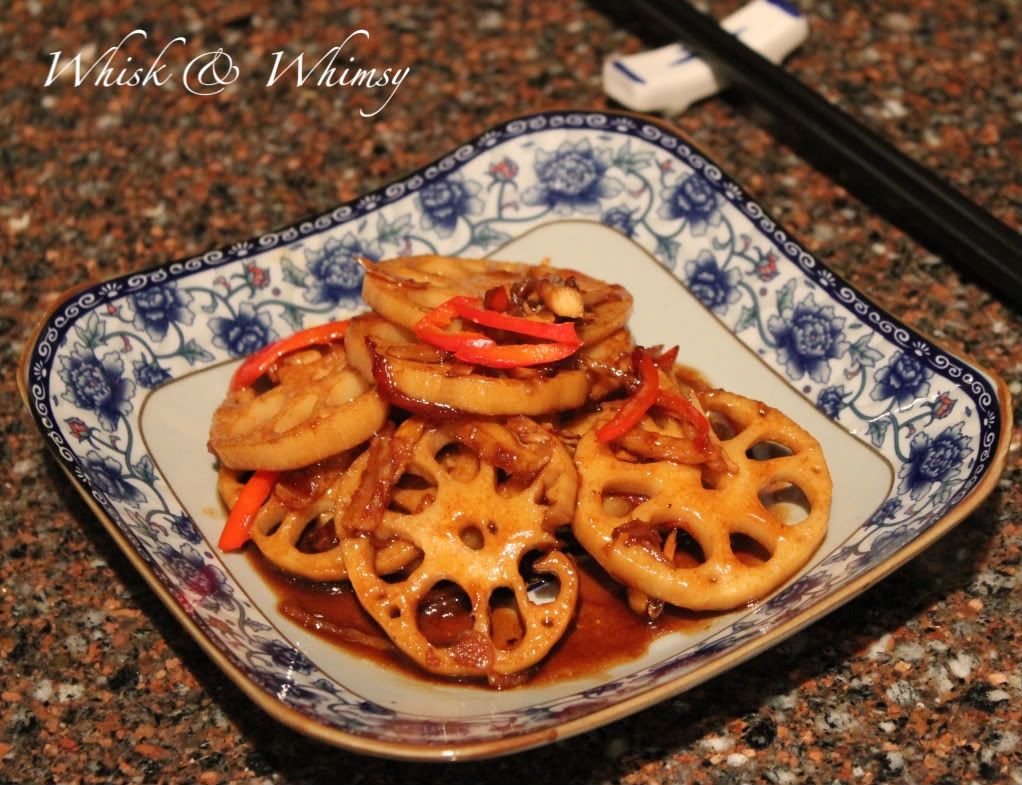 Hello friends! Sorry for my absence, I have been distracted by life - back again, though.

We are in the depths of winter here at W&W HQ, and I'm sick with the dreaded lurgy. Fortunately, winter brings one of my new favourite ingredients to the produce market and I have a recipe to share which is packed full of garlic, ginger and chilli and sure to ward off any nasty germs.

Now, do you know about Lotus Root? I must say I didn't know much about it until this time last year. Our favourite local Japanese restaurant serves up tasty little pickled lotus root bites before bringing the meal. This, along with lotus chips, was really my only exposure to the ingredient until one Friday last year when I was visiting Chinatown, as I often do to pick up my groceries, and saw piles of this peculiar tuberous root in various asian grocers. After seeing plenty of Chinese shoppers throwing lotus roots into their baskets, I will admit to being quite curious and came home with some to try.

This is what it looks like, before it's peeled and sliced:
Source: flickr.com by jvumn
Attractive, huh?

The lotus root is a starchy little devil and will quickly turn brown when exposed to the air. The key to preparing it is to peel it quickly with a vegetable peeler, cut it into thin slices, about 5mm thick at the most, and throw the slices into acidulated water (a bowl of cold water into which you have squeezed some lemon juice or tipped in some white vinegar). Otherwise, your lovely perforated discs of lotus goodness will turn from an appealing crisp white to an unattractive dark brown.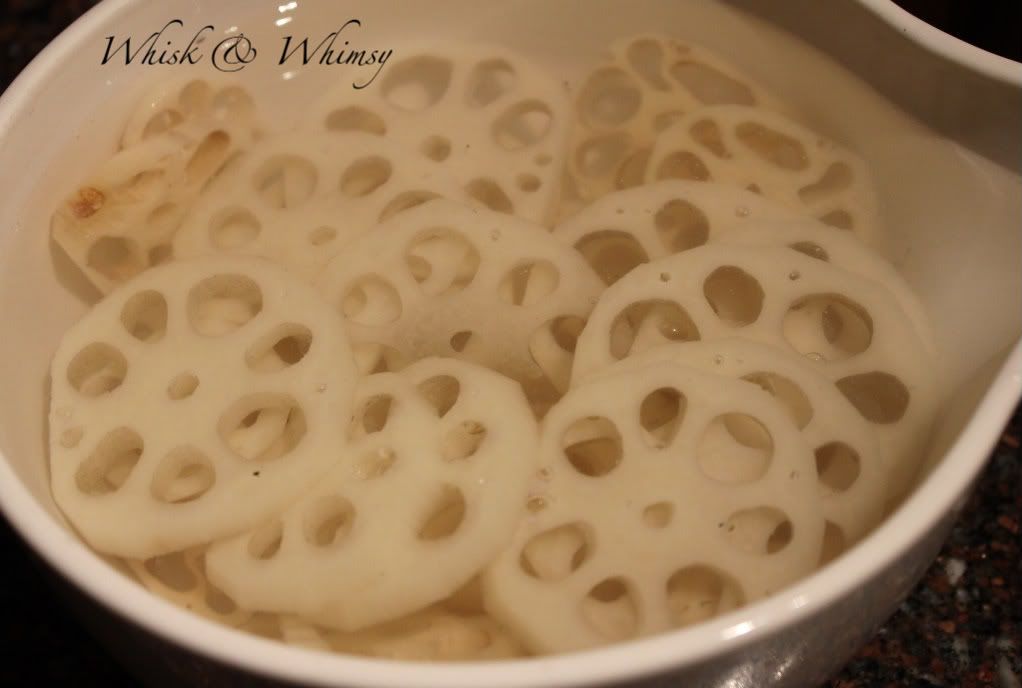 Once I got home with my bundle of tubers, I was faced with the dilemma of what on earth I should do with it. Of course, I turned to the great font of all knowledge, Google, and eventually came up with Kylie Kwong's Caramelised Lotus Root which I tweaked to suit the ingredients I had and which is adapted below.

To eat, the lotus root is quite crunchy - much more so than some of the pickled versions I have had in the past. It kind of reminds me of potato, or celeriac, but it retains its crunch when cooked (with a crispness rather like celery). It has a subtle flavour not disimilar to a water chestnut and really shows off this sauce to perfection.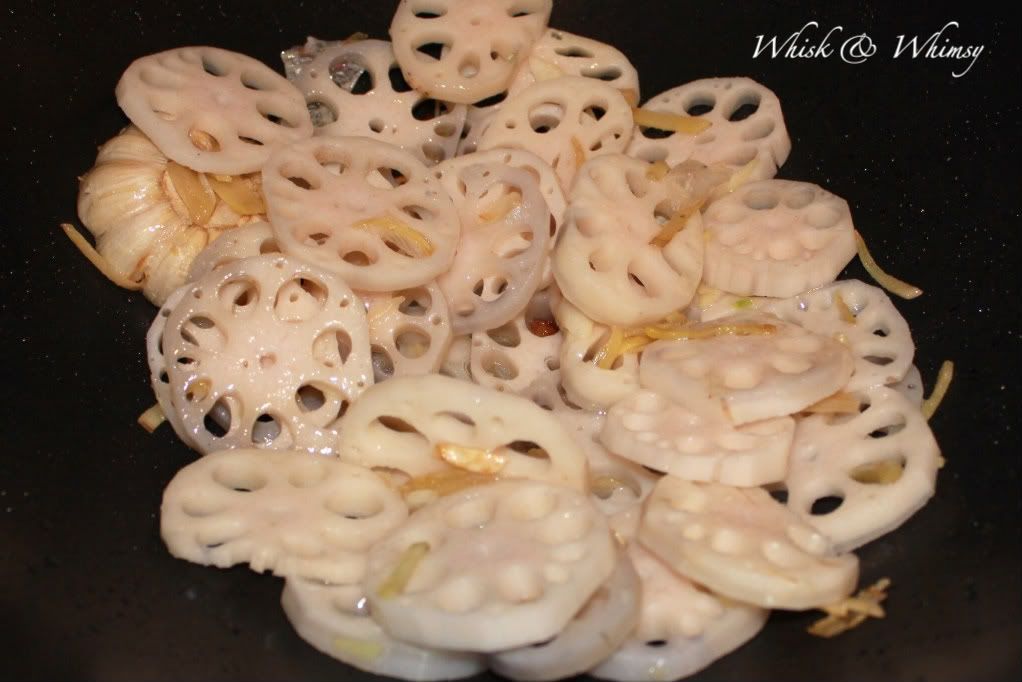 Caramelised Lotus Root
(adapted from a recipe by Kylie Kwong)
Serves 4
You will need:


500g lotus root, peeled & cut into 5mm slices and immediately placed in acidulated water


2 tbs peanut oil


3 garlic cloves, finely sliced


¼ cup ginger, finely sliced into matchsticks (loosely packed)


2 tbs shao hsing rice wine (or dry sherry)


1 tbs of black rice vinegar


2 tsp soy sauce


1 long red chilli, deseeded and finely sliced diagonally.
What to do:
Drain lotus root whilst heating the oil in a wok until shimmering slightly.

Add the garlic slices, ginger and lotus root to the wok and stir fry for about 3 minutes, tossing continuously to prevent the garlic burning. Add brown sugar and stir fry for another 2 minutes or so until caramelised slightly. (Sometimes I take a bit longer in this process to make sure the sugar caramelises nicely). Add rice wine/sherry and stir fry for a minute more before stirring through vinegar and soy. Toss for one last minute and serve with chopped chilli as a garnish.
* * *
Notes: The original recipe serves 4-6. We usually have this as a starter as it is quite rich. Often I will cook this for just Mr W&W and I and adjust the quantities according to how much lotus root I have chopped up - it's a case of a 'splash of this and a dash of that' rather than exact measurements.

If Lotus Root is not in season, you can still enjoy this dish! Frozen sliced Lotus root is available in handy 500g packages at Asian grocers.