At this time of year, in many parts of the world, the weather and general atmosphere is perfectly fitting for one to curl up with a bowl of steaming comfort food, rich in flavour and laden with warming spices. Having said this, the home of W&W HQ - Sydney, Australia, in the middle of a humid January - is, perhaps, not one of those places which might immediately spring to mind.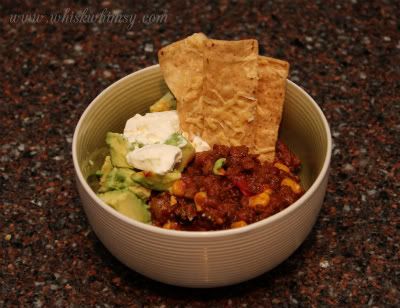 However, as unlikely as this seems, a soothing pot of warming beef chili is precisely what has been gracing our table in recent days. Just because it is January - our summer - and the air is sultry and sticky, does not mean that comfort food is beyond our reach. At W&W HQ, we find this meal gratifying because it is simple, yet still flavoursome (a nice change from the indulgent Christmas meals of recent memory), and because it is relatively cheap (also very welcome in January when the hip pocket continues to sting somewhat after the expense incurred during the festive season!). Sure, a bowl of tasty spicy stuff may not be everyone's cup of tea during summer time, but for us here at W&W HQ, this is precisely what the doctor ordered: it's easy, tasty, makes for a bundle of leftovers (we freeze this for easy pie-fillings or for tacos or burritos which make for a light mid-week dinner) and inexpensive, using mostly store-cupboard and freezer staples.
Now, I tend to think of Chili as a distinctly American thing - certainly not something that featured on our typical Australian table when I was growing up. I did eat an imitation of sorts, when my Mum would get a bit exotic and buy a taco kit from the supermarket, but that was some sort of mince concoction jazzed up with the seasoning packet that came in the taco
box. Truth be told, I have never been a great big fan of minced/ground beef. In my mind it has always tasted watery and stewy, with an unpleasant beefy odour which hits me in the nose before I have a chance to get a forkful toward my mouth. However, I don't like to "not like" things as I feel as if I am missing out, and for some time now I have been bookmarking (I'm not yet adept at
Pinterest
!) American blogs featuring big, bubbling pots of steaming chili - rich, meaty goodness that looks and, as I have discovered, tastes nothing like the gruel I recall from my childhood. I'm very glad I stepped out of my comfort zone.
We started cooking this recipe towards the end of last year, and it has quickly become a regular meal at W&W HQ. It's a hybrid of many different recipes I collected from the internet, tweaked to our liking. For example, I like my chili beefy, and thick - not gloopy. I like beans in mine, and I like corn, sometimes. I also like it warming but not
knock your socks off
spicy, and I love the earthy smokiness that comes from using chipotle chiles, cocoa and smoked paprika. I'm sure many people have their own, traditional, chili recipe - certainly I expect that is true for my American readers. However, if you are like I was - somewhat unfamiliar with the dish and not quite sure where to start, give this a try - you could do worse! I think it's top notch, and it's Mr W&W's current Very Favourite Thing.
Just before you start, a warning: This is not a "quick" meal, in that the longer it cooks, the better it takes. Mine bubbles away on the hob for at least an hour and a half.
However
, it is simple, with only a few steps, and it can be made ahead (and usually tastes better if it has been made ahead and has had a bit of a rest in the fridge overnight). This is the sort of thing you might make on a Sunday afternoon for the week ahead.
The W&W Favourite Beef Chili

What you need:


1.2kg premium beef mince/ground beef
2 tbs oil
2 brown onions
3 heaped tsp ground cumin
2 heaped tsp paprika*
4 cloves garlic, finely sliced
2 chipotle chiles, minced, and 1 tsp of adobo sauce* (see below, but you can substitute 1 tsp chilli flakes) - or to taste
1 tbs dried marjoram
1 tsp sugar
1 tbs cocoa powder
400g tin of black turtle beans (or red kidney beans), rinsed and drained
2 x 400g tins of whole tomatoes, chopped*
1 heaped tbs of tomato paste
2 cups beef stock
2 red capsicum (bell peppers) chopped into 2cm chunks
½ cup sweet corn kernels - frozen/tinned is perfectly fine (optional)
avocado pieces and sour cream to serve (if you wish)
What to do:
Look, it's simple. First, grab a big heavy based pot, add the oil and set over medium heat for a moment. Add onions, and fry with a big pinch of salt until the onions become translucent and begin colour. (The addition of salt will prevent the onions burning). Add cumin, paprika, garlic and chilli and fry, stirring, until aromatic ( a couple of minutes). Be careful to ensure the mix does not catch on the bottom of the pan. I use my
big Staub cocotte
to do this, but if you have a smaller pot, you might need to brown your meat in batches when we come to that (next step). [Crowding the pot will result in the meat tasting a bit stewy, which is not nice].
Next, add the beef mince and break up roughly (I like there to still be some big bits), allowing the meat to brown (which really means to change from red raw to a brownish grey colour - you are sealing the meat). This will probably take 5-10 minutes, depending on heat and your pot.
Once the meat has browned, add tomatoes and their juice, tomato paste, marjoram, sugar, cocoa and, finally, the beef stock. Stir to combine and bring to the boil. Allow to boil for 5 minutes, then reduce your heat to medium-low, letting the mixture bubble and simmer, stirring occasionally. The longer you leave your chili to simmer, the richer your flavour will be. About 30 minutes into the simmering, add your capsicum (bell pepper) and stir to combine. Continue simmering the mix for a further 20 minutes if you are extremely hungry, or another hour if you can wait that long. The flavours will develop to a rich, smoky, delicious concoction the longer you leave it on the hob. Finally, 10 minutes before the end of cooking, taste to check for seasoning (add salt/pepper/extra chilli as needed) and stir through drained beans and corn kernels (if using).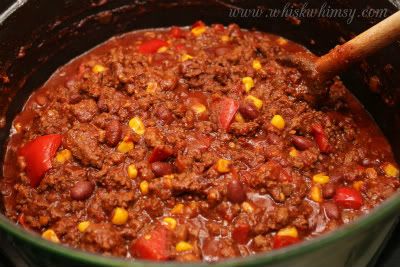 Serve, in bowls, topped with a dollop of sour cream and cubes of luscious, velvety avocado. Sometimes, as an extra treat, I toast some corn chips topped with a teeny amount of grated cheese in a hot oven in the ten minutes before I serve up, and then top the chili bowls with crunchy corn chip croutons in the manner shown here.

Yield: At least 6 very hungry people, with leftovers (or, 2 occupants of W&W HQ with plenty of freezer meals for the fortnight ahead).
* * *
NOTES:
Chipotle Chiles in Adobo Sauce:
These are smoked jalopeno chiles which are canned in a sauce comprised of tomatoes, vinegar and delicious spices. They carry a punch, but their smokey heat has no comparison. You can find these in good quality delis and
online.
One small tin lasts for a while - I open the tin, use what I need and put the remainder (including the sauce) in a small tupperware container in the fridge for as long as required to use them up. When I have these on hand, I use them in place of dried chilli flakes in other dishes. Likewise, if you can't find chipotle chiles, simply substitute 1tsp (or to your liking) of dried chilli flakes.
Paprika:
In this recipe I like to use 1 tsp each of sweet paprika and smoked paprika, to continue the smokey spice theme I have in place from the chipotle chiles. You can use 2 tsp of ordinary, sweet paprika if that is all you have. However, I certainly would recommend having some smoked paprika (I use
La Chinata
, available at Simon Johnson and good quality delis) on hand - a small amount will give everyday dishes a special kick.
Tomatoes:
You can, of course, buy tins of tomatoes which have already been crushed or chopped. However, the benefit in purchasing the tinned
whole
tomatoes and roughly chopping them in a bowl yourself is that you are getting a better quality tomato. The general consensus is that the whole tomatoes are more likely to be unblemished and a higher calibre than the ones which come chopped in the tin. The pre-chopped ones are said to comprise the marked and bruised tomatoes, which have had their bad bits cut out. I prefer to use the whole ones, but this is entirely up to you.